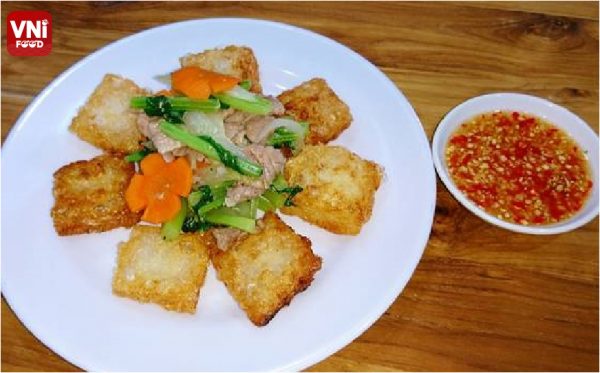 | | |
| --- | --- |
| | |
Wash the meat and then slice thinly, marinate with 1 chopped shallot, 1/4 teaspoon salt, 2 teaspoons fish sauce, 2 teaspoons oyster sauce, pepper, MSG. All mix well.

Cut the rice noodles into bite-sized pieces.

Heat 200 ml of cooking oil in a pan, then add each piece of noodles to fry until it turns yellow, then add another piece. Do not put many noodles at the same time because the noodles will stick together.

Fry until the noodles turn yellow on both sides, then take out and put on oil absorbent paper.

Wash choy sum, cut, and drain. Cut the carrots thinly.

Pour the oil in a frying pan, then stir fry the beef and onions quickly until cooked.

Use chopsticks to pick out beef but still leave the stir-fried water to continue to stir-fry carrots. Season to taste.

Arrange fried noodles on a plate. Put choy sum, beef on top. Serve with sweet and sour sauce.
Fried pho is a delicious and unique dish, combining fried rice noodles with beef and delicious vegetables. Each piece of tender beef, crispy noodles, and the tasty sauce will attract you from the first bite.