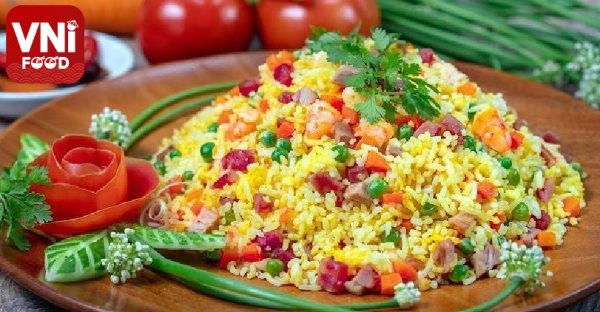 | | |
| --- | --- |
| | |
- Peel the sausage and dice. Peel and wash the potatoes and carrots, also dice into small pieces. Cut off two ends of the green beans, remove the fiber string, wash and cut into small pieces. Set each ingredient separately. Take the rice out into a bowl, use a spoon to stir until grainy.

- Heat cooking oil on the pan until slightly boiling, add garlic to saute. Pour the rice into the pan, use a turner to stir the rice to absorb a layer of cooking oil. Add 1 tbsp of fish sauce to the rice pan, break 2 eggs into the rice. Stir often to loosen the rice. Fry the rice until dry and have an eyecatching yellow color.

- Turn off the stove when the fried rice is golden and fragrant. Ladle the fried rice into a bowl and set aside. Keep the pan, add cooking oil to heat, add carrots and sauté first until cooked, then add potatoes, green beans, sausages in the last stir-fry. Stir all ingredients. Season with salt, pepper, and MSG to taste.

- Pour the fried rice into the vegetable pan, use the turner to stir the rice and vegetables evenly. Fry the rice for another 2 - 5 minutes until the rice is hot again, then turn off the stove. Ladle the fried rice onto a plate, serve with soy sauce or chili sauce.