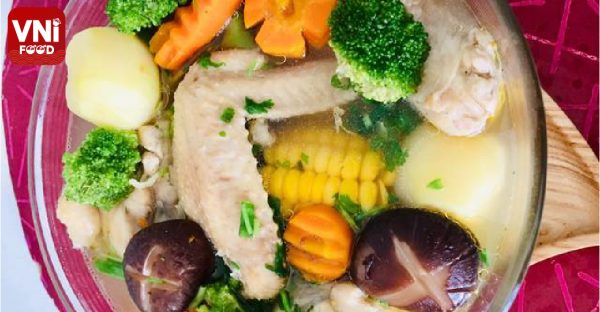 | | |
| --- | --- |
| | |
Cut broccoli into pieces and cut carrots into flowers. Soak the mushrooms in water for blooming. Peel potatoes.

Cut the corn into circles. Then add corn, carrots, and 1 liter of water to the stew for 10 minutes. Marinate the chicken with salt, 1/2 tablespoon fish sauce, ground pepper, and shallots. It will be more delicious if the chicken takes time to absorb all the spices. Next, add the chicken to the stew.

Add shiitake mushrooms, potatoes to stew. After 15 minutes, add broccoli.

After 30 minutes, when all is cooked, add 1/2 teaspoon salt, MSG. Season to taste. Sprinkle the cilantro and some pepper. It is ready to serve now!
Chicken soup with vegetables is an extremely nutritious recipe. This is a gold dish dedicated to the health of your loved ones in the family.