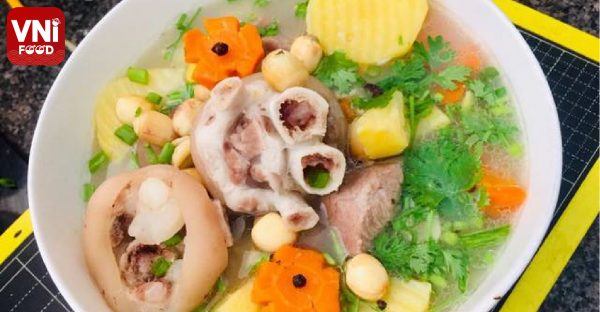 | | |
| --- | --- |
| | |
Peel the potatoes and cut into bite-sized pieces. Cut carrots into flowers, then wash.

Remove the lotus core from fresh lotus seeds.

Chop pork leg into individual slices, then wash with salt — Stew the meat with 1.5 liters of water with lotus seeds and carrots. After 30 minutes, add the potatoes to the stew for another 15 minutes. At that time, the pork leg is also soft.

Season with 1 teaspoon of salt, 1/2 teaspoon of sugar, a little MSG, and 1/2 tablespoons of seasoning. Sprinkle the cilantro and some pepper into the pot. That's how we make a bowl of nutritious soup!
Pork leg is a nutritious food, while lotus seeds have a delicious flavor and help to calm down. The combination of those materials is very suitable for those who just recovered from illness to improve their health.