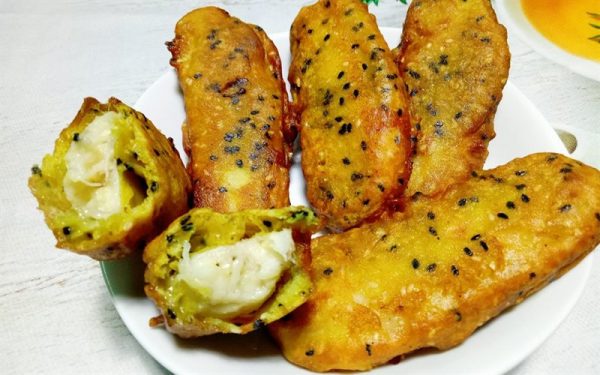 | | |
| --- | --- |
| | |
Step 1: Mix wheat flour, rice flour, turmeric powder into the bowl. Pour 300 ml water slowly and stir well until the dough is smooth, then add 30 gr sugar and condensed milk to mix together. After that, put the dough in the refrigerator for 30 minutes.

Step 2: Peel bananas. Flatten the whole (or cut in half) bananas into thin slices.

Step 3: Remove the mixture in the fridge. Add sesame and mix well. Heat a cooking oil pan. When it is hot, dip the banana slices over the dough to cover evenly, then fry both 2 sides until golden. Take it out to put on the blotting paper, then dip it through the mixture and fry again. This way makes the powder cover be more crispy. Do the same with the rest of the banana.
In the memories of many people, fried banana cakes are unforgettable snacks with a crispy and fragrant shell. The main ingredients of fried banana cakes include bananas, rice flour, and wheat flour.