Courgette is good for health because it has a cooling effect and contains a lot of fiber which is beneficial for the intestines and digestive tract to reduce fat accumulation, as well as contains Vitamins A, B, C, E and a number of minerals good for the skin.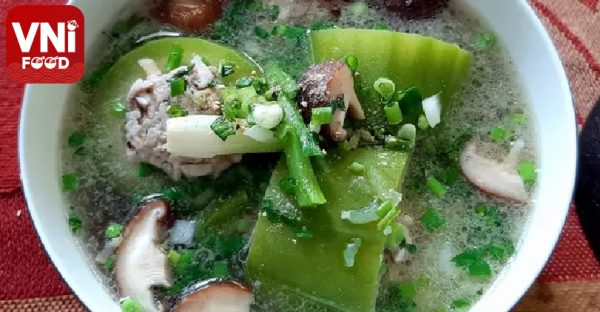 | | |
| --- | --- |
| | |
- Wash the shiitake mushrooms, chop 5 pieces, the remaining 5 are cut into 2 or 4. Marinat minced pork with pepper, salt, a little sugar, finely-chopped cilantro, sliced ​​shallot, 1 teaspoon of cooking oil, 1 chicken egg, minced mushrooms. Mix well and leave for 10-15 minutes.

- Peel the courgettes and wash, cut into 5cm pieces. Use a spoon to remove the middle part.

- Saute shallot, pour 1.2 liters of boiling water. Stuff the marinated meat into the courgette pieces.

- Then, drop into a pot of boiling water, boil for 5-10 minutes. Add shiitake mushrooms.

- When the soup boils again, add the scallion stem, season to taste again.

- Scoop out into a bowl, sprinkle with cilantro, pepper, and enjoy.