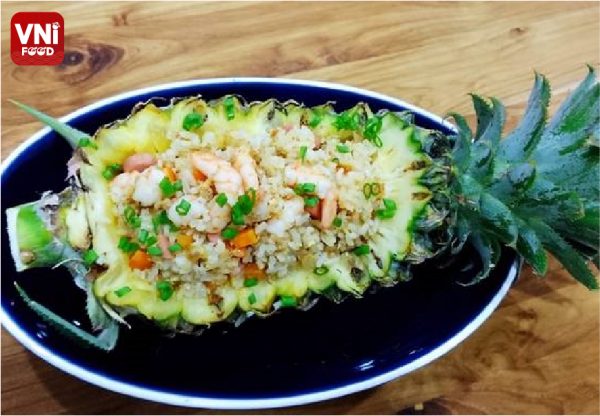 | | |
| --- | --- |
| | |
Cut the aroma into 2 uneven vertical sections, 1 large side, 1 small side. For the larger part, use the aromatic scraping knife inside to get the rice container.

Cut the beans, carrots, sausages, shrimp, pineapple, onions into pomegranate seeds

Then stir fry shrimp to hunt. Next, add all the stir-fried vegetables and seasonings.

Sauté garlic with 1 tbsp of cooking oil until fragrant. Turn off the heat, add rice, eggs, fish sauce, MSG, pepper to mix together.

Fry the mixture until the rice grains are firm.

Put the stir-fried vegetables to cook - seasoning to taste and then turn off the heat. Pour the fried rice in the prepared pineapple.
Pineapple fried rice has a slightly sour pineapple, fleshy vegetables blended with the sweetness of shrimp. This dish promises to bring an exciting experience for you to enjoy. Let's make it!