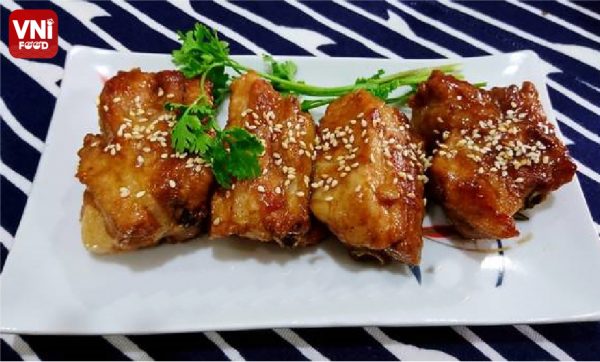 Step 1: Wash the ribs, then chop the piece to eat. Then, marinate with minced garlic, 1/2 teaspoon salt, 2 teaspoons fish sauce, 1/4 teaspoon MSG, pepper. Tamarind is soaked in water.

Step 2: Fry the ribs in the pan with some cooking oil until golden. Then, add 2 teaspoons of sugar to cook until slightly burnt for a nice color.

Step 3: Add tamarind juice to the pan, add sugar, 1 cup of water to simmer the ribs to become soft and the sauce thickens. Season to taste. Take out ribs to the plate. Add some roasted sesame seeds to make it taste better.
Ribs with tamarind sauce have the sweet taste of pork ribs combined with sweet and sour tamarind, and spicy peppers will make your home meal more attractive.