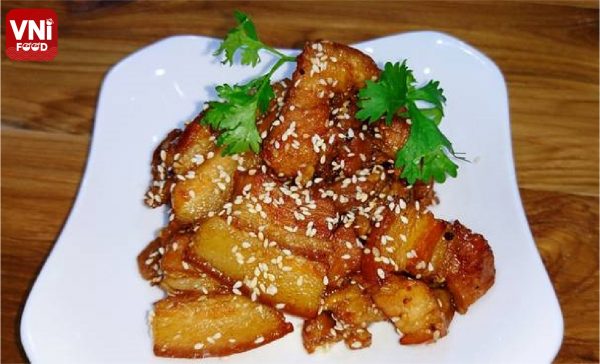 | | |
| --- | --- |
| | |
Step 1: Cut the bacon into thin slices, then marinate with 1/2 tsp of salt, 2 tsp of fish sauce, 2 tsp oyster sauce, 2 tsp cooking oil, 1/4 tsp MSG, 2 teaspoons of sugar, 2 teaspoons of minced garlic, minced pepper and mix well until absorbed.

Step 2: Put 2 teaspoons of sugar with a little water in the pan. Cook until the water color changes to caramel, then add the meat to simmer with 1/2 sesame. When the spice thickens, add 1/2 cup of water to the simmer until the meat is cooked.

Step 3: Season to taste. Pour the rest of sesame seeds into the pan.
Simmered bacon with sesame is an incredibly delicious dish, including tender meat that is not too greasy and the typical aromatic sesame. Also, the eye-catching appearance will make you not want to stop your chopsticks.