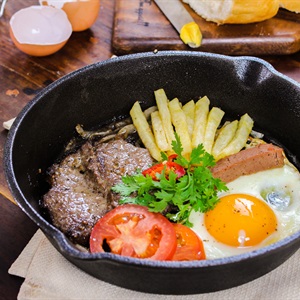 | | |
| --- | --- |
| | |
Step 1: Washed and cut the beef into bite-sized pieces. Marinate 250gr beef with 1 tablespoon of soy sauce, 1 tablespoon of oyster oil, 1 tablespoon of minced garlic, 1 teaspoon of sugar, 1 teaspoon of cooking oil, 1 teaspoon of pepper and 1 teaspoon of sesame. Mix 2 sides of the beef thoroughly and leave it for about 20 minutes. For well-cooked and tender beef, you had better marinate it with soy sauce, avoid salt or fish sauce as they make the meat not only dry but also tough.

Step 2: Cut onion into thin slices, stir in an iron pan, then place the spiced beef in. When one side is cooked, turn the other on. Continue to put an omelet egg, a piece of liver pate and a few slices of fries in the pan. Notice to make the beef well-done, not over-cooked to retain good flavor.

Step 3: Prepare salads including tomatoes, lettuce and cucumber mix with a little vinegar for sweet and sour taste, then serve with the beef steak, bread, and hot sauce or soy sauce.
Prepare salads including tomatoes, lettuce and cucumber mix with a little vinegar for sweet and sour taste, then serve with the beef steak, bread, and hot sauce or soy sauce