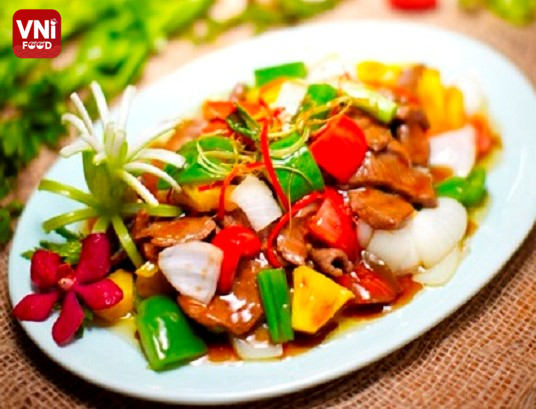 | | |
| --- | --- |
| | |
Cut the beef into cubes, then marinate with 2 teaspoons of minced garlic, 1 teaspoon of soy sauce, 1/4 teaspoon of salt, and MSG. Wait until the beef absorbs the spices. Add 2 teaspoons of sesame oil (or cooking oil).

Dice bell peppers and onions.

Heat the pan with 1 tbsp of cooking oil, add chili sauce, 1 tbsp of ketchup, 1/4 tsp of salt, 1 tsp of fish sauce, 2 tsp of sugar, 2 tsp of oyster sauce to boil. Mix cornstarch with a little water, then pour into the pan to make the sauce slightly thickened.

Stir fry the beef, then remove it and use the pan to sauté the onions. When eating, pour the hot sauce on the beef and chili, onions.