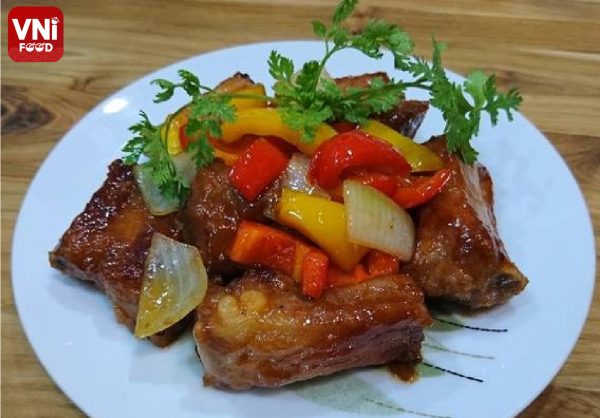 | | |
| --- | --- |
| | |
-Step 1: Wash the ribs, then chop into bite-size pieces, marinate with 1/2 teaspoon salt, 1/4 teaspoon MSG, 1/2 teaspoon garlic powder, 1 tablespoon oyster sauce.

-Step 2: Roll the ribs into the crispy flour or wheat flour and put on oil pan to fry until golden. Remove ribs and drain oil.

Step 3: Sauté chopped bell peppers and onions with fish sauce, MSG.

Step 4: Make the sauce: 1 tbsp of ketchup, 1 tbsp of oyster sauce, 1 tbsp of soy sauce, 1 tbsp of rice vinegar, 2 tbsp of sugar. Sauté shallots with cooking oil. Pour the sauce and the water marinating the ribs to boil and then add the ribs, 1/2 cup of water to simmer with low heat until the ribs are soft and absorbent. When the water almost runs out, add the onions. Season again, then turn off the heat. Add some pepper to taste.
Sweet and sour ribs are delicious and easy to make, making the family meal more attractive. How to make sweet and sour ribs is quite simple. You can also adjust the sweet and sour sauce to suit your taste.