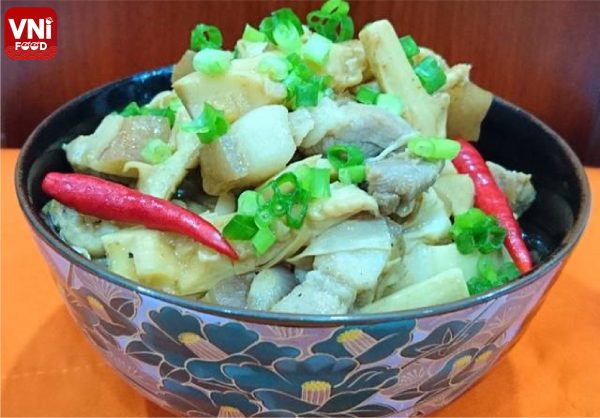 | | |
| --- | --- |
| | |
- Cut the bamboo shoots in half, then boil for about 5 minutes with a pinch of salt. Then, rinse with water several times.

-Cut the bacon into bite-sized pieces, marinate with minced shallots, 1/2 teaspoon salt, 2 teaspoons fish sauce, 1/4 teaspoon MSG, pepper. Then, leave for about half an hour for the meat to absorb spices.

-Sauté minced garlic and onion with 1 spoon of cooking oil, add 1/2 teaspoon of paprika, then stir-fry the meat. Continue to add bamboo shoots. If it is dry, add a little water to cook so that the bamboo shoot can absorb the spices. Season to taste again.
Braised pork with bamboo shoots is a favorite dish of many Vietnamese families. The mild taste of fresh bamboo shoots combined with greasy bacon pieces creates an extremely delicious dish that will not make you feel bored.