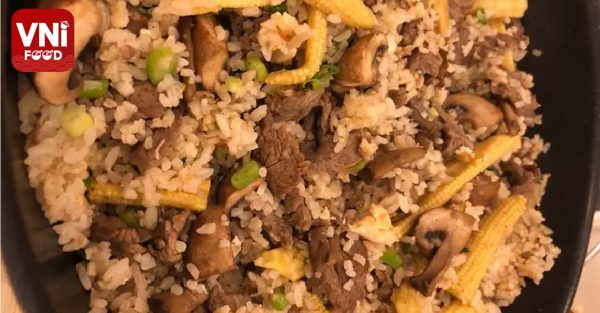 | | |
| --- | --- |
| | |
Wash and shred mushrooms and corns.

Marinate the meat with some salt, pepper, sugar, 1 teaspoon oyster sauce, 1 spoon of cooking oil, 1/3 tablespoon cornstarch. Leave there for about 15 minutes.

Sauté chili and shallot, then place on a plate.

Sauté mushrooms and baby corn. Season to taste (salt, oyster sauce, sugar). When cooked, place it on a plate.

Add in cooking oil. When the oil is hot, add the rice to stir. You can spread the rice evenly and leave it for the rice to cook and burn slightly.

Beat two eggs and add to the rice. Stir until the eggs are cooked.
When there is cold rice, you want to make an extremely delicious dish quickly, do not miss Fried rice with beef and baby corn. Soft sweet corn with nutritious beef will create a wonderful meal.