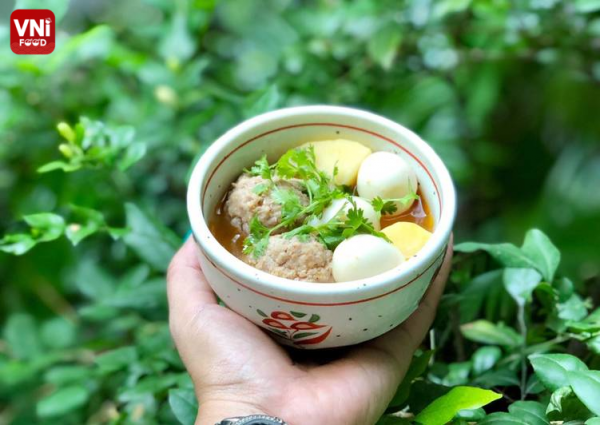 | | |
| --- | --- |
| | |
Boil quail eggs with a little vinegar. When cooked, put the eggs in a stainless steel basket to shake so that it will be easier to peel the eggs. Peel off the quail eggs and rinse well.

Add spices to ground meat: pepper, salt, oyster sauce, chopped green onion stem, tapioca flour. Mix all.

Round the meat mixture into meatballs, flatten and put the quail eggs in the middle, then round tightly again.

Peel the potatoes, wash and cut into 8 pieces.

Put 1 cup of water into a pot to boil and then add the meatballs. Add the potatoes and enough water and tomato sauce in the pot to stew for 30 minutes with medium heat. You can use the pressure cooker to cook faster. When the pot boils, turn off the heat and leave it there for about 30 minutes. Then, open the lid and season to taste again (salt, sugar, MSG).

Put the dish in a cup and add some cilantro, pepper to make it more delicious!