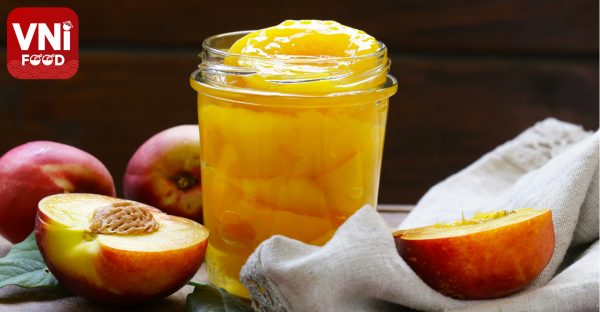 | | |
| --- | --- |
| | |
Rinse the peach, soak in diluted saltwater for about 30 minutes.

Drain the peach. Prepare 1 container of cooled boiling water (or filtered water) with a little salt.

Peel the peach and cut into 4 or 6 pieces as you wish. Cut and drop immediately into the brine to prevent from browning.

Pour sugar and the corresponding amount of water to the dry pot. Stir well with low heat until the sugar turns into the color of cockroach wings, turn off the stove (do not stir). Pour about 1.5 liters of filtered water (or cooled boiling water) into the pot and boil again.

Put the peach in the pot and stir well. Turn down the heat and simmer until the peach becomes clear.

Prepare a bowl of ice water (lots of ice). When the peach is almost cooked, take it out and drop it into the bowl of ice water to make the peach crispy. Soak peaches in water for about 30 minutes until the peach pieces cool down completely.

Wait for the pot of sugar water to cool and then squeeze half of the lemon into the pot, then stir. Note that you should not squeeze lemon while the water is still hot to avoid being bitter.

When everything cools down, put peach and water in a bottle or container, then store in the refrigerator to drink gradually. After 1 day, peach pieces are ready to eat.