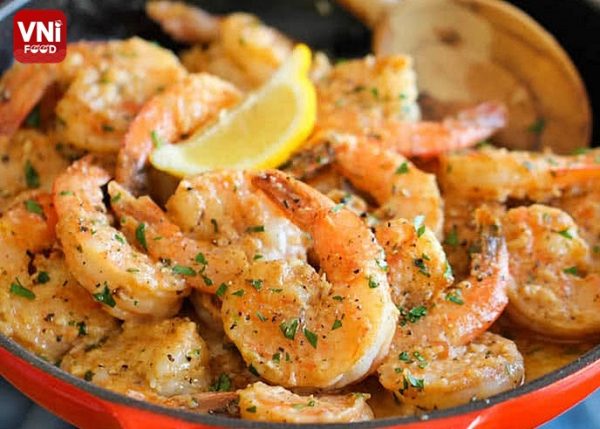 | | |
| --- | --- |
| | |
Wash the shrimp, peel off the head. You slit the shrimp along the back to get the black string. Then, peel and mince garlic. Squeeze lemon to get lemon juice. Wash and chop parsley leaves.

Boil cooking oil, then put the shrimp to fry briefly. Take out the shrimp and drain. Melt 2 tablespoons of butter in a large saucepan over medium heat. Add shrimp, salt, and pepper to the butter pan to stir occasionally until the shrimp turn pink (about 2-3 minutes) and then the saucepan set aside.

Sauté garlic in another pan. Next, add chicken broth and lemon juice to the pan to boil over low heat. Add 6 tbsp of butter and the whole previous shrimp butter mixture in the pan to gently stir until the shrimp marinates completely in the garlic butter sauce.

Cook until the mixture becomes thickened, then take out. Add chopped parsley leaves for better aroma.

You can add ground pepper to make the dish more aromatic and attractive! This garlic butter shrimp is best served hot with white rice and lettuce.