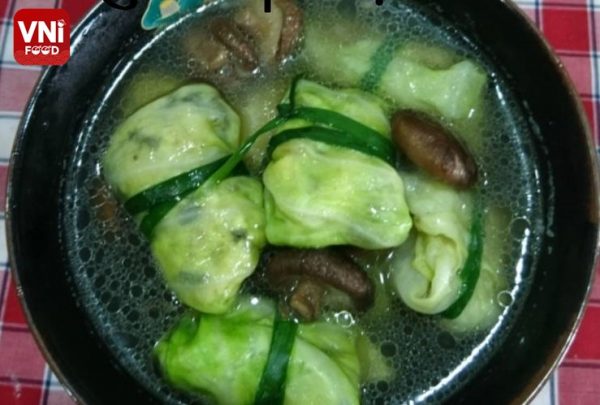 Soak mushrooms and cut them into small pieces. Rinse the abalone mushrooms and chop. Squeeze the white tofu and mix them all together. Next, marinate with minced shallots, half a teaspoon of vegetarian seasoning seeds, a little pepper, then mix well to absorb the seasonings.

Take each leaf of cabbage and wash it. Then, put on boiling water mixed with a little salt. Blanch the chives leave as well.

Spread each leaf of cabbage, then scoop the fillings to put in the middle of the cabbage leaf, use chives to tie.

Soak the shiitake mushrooms until bloom, then rinse thoroughly and drain. Sauté shallot with 1 tbsp of cooking oil and stir fry shiitake mushrooms with vegetarian seasoning seeds, a pinch of salt, soy sauce. After that, boil a bowl of water, then add cabbage to cook for about three minutes. Season to taste again. Add pepper, coriander for fragrance.