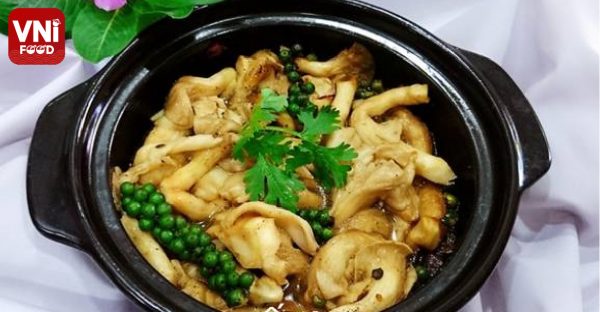 Cut the stem of oyster mushrooms, then soak in salt water. After that, wash again and drain.

Wash the peppercorns, then, take the seeds in 2 branches to crush.

Sauté onions on the pot until fragrant.

Add crushed peppercorns to stir-fry and add 2 tablespoons of soy sauce, a little MSG, 1 teaspoon of sugar to stir.

Put the mushrooms into the pot to stir well with low heat. Add a little ground pepper — season to taste and add the remaining green peppercorn. Then, turn off the heat.
The special and nutritious vegetarian simmered oyster mushroom with peppercorn will be the perfect suggestion for a rich vegetarian dish to help the whole family to enjoy.