The childhood of the people in the Southwest region is associated with many memories including many indispensable and rustic dishes such as Banh Cam, Banh Bo, steamed cassava, fried banana cakes, etc.
1. Banh Cam with sugar
Banh Cam is one of the dishes that remind the childhood of many Vietnamese generations, especially Southwest residents. This cake is also eaten by most Saigon people in their breakfast or afternoon snack. Banh Cam is made from glutinous rice flour, rice flour, and pure green beans. On the surface of the cake is covered with a layer of golden caramel and fragrant sesame.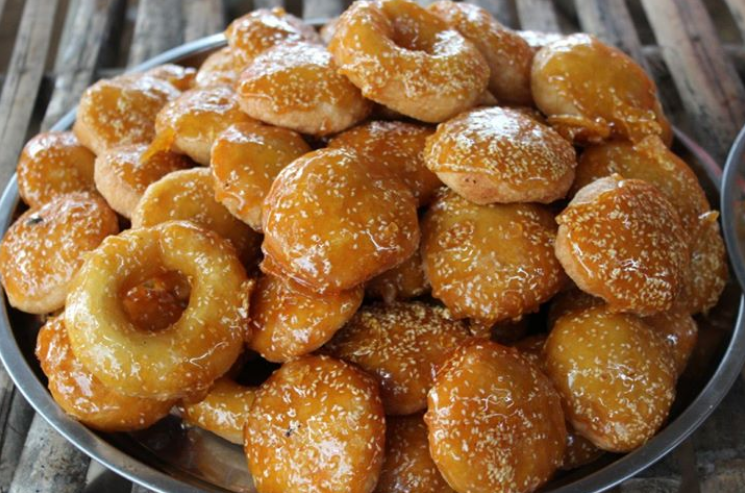 When being fried, the cake has an iridescent yellow like honey. Biting a piece of Banh Cam, you can hear the "Crack" sound of the caramel layer. The crispy crust outside and the tasty green bean filling will definitely bring you an unforgettable taste.
2. Steamed cassava with coconut juice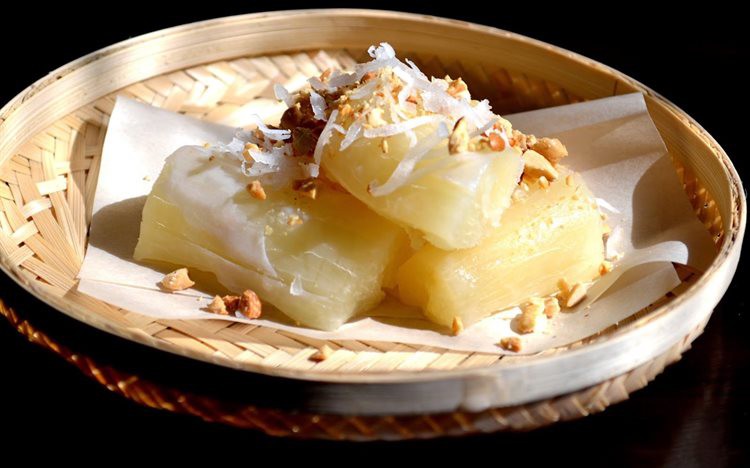 Cassava is a familiar ingredient made into many delicious and attractive dishes. However, to enjoy its natural flavor, steaming is the most suitable cooking way. The cassava after peeled off will have a pure white color when steamed, it gradually turns to yellow. People will put a few pandan leaves to cook with the cassava to create the aroma taste. It will be a perfect combination if you eat the steamed cassava with sesame salt or dense coconut cream. The softness mixed with fatty taste will impress you right from the first time you enjoy it.
3. Fried banana cake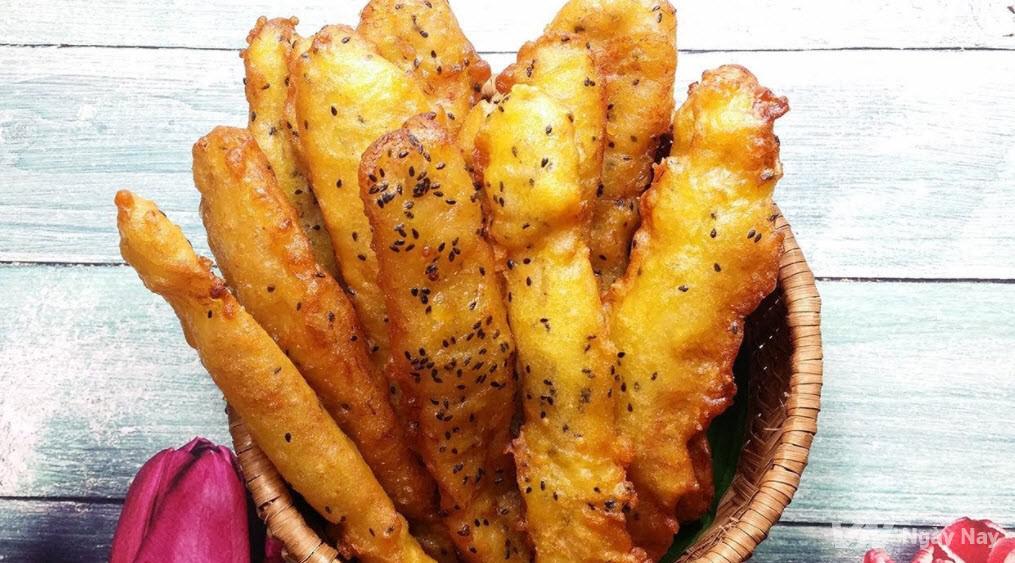 In the memories of many people, fried banana cakes are unforgettable snacks with a crispy and fragrant shell. The main ingredients of fried banana cakes include bananas, rice flour, and wheat flour. The cooking procedure is: Dip bananas in flour and place in a boiling oil pan, fry until the cakes turn golden, remove the bananas and put on oil-absorbent paper. This is also one of the most popular dishes in Saigon.
4. Banh Bo Sua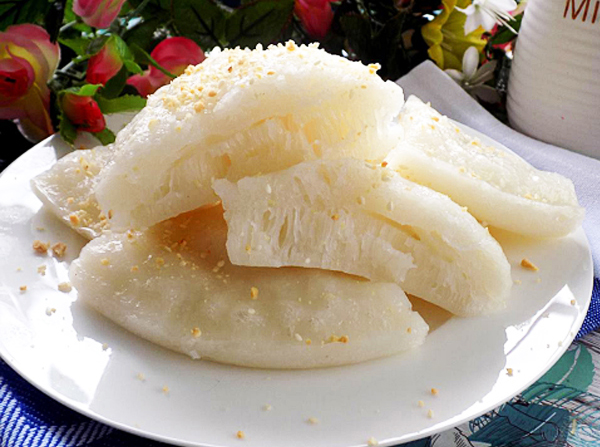 The simple materials for making this dish are rice flour, sugar, coconut, and yeast. The cake has a typical white color with a sweet and chewy taste, which is also a traditional dessert of Southwest residents.
5. Steamed banana cake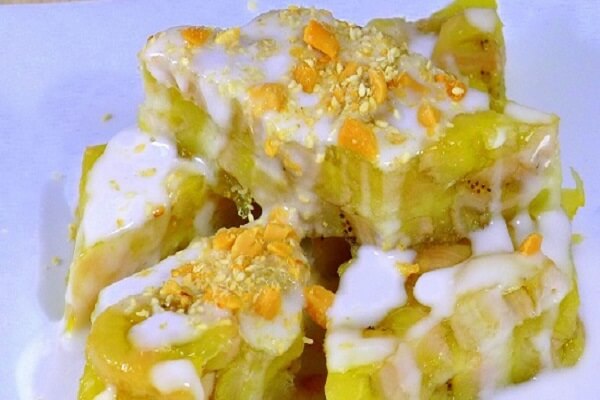 Those who have ever tried the steamed banana cake will not forget its charming fragrance. This is a combination of two familiar ingredients including sliced bananas and tapioca starch. People will blend the two ingredients together then steam to have the banana pieces covered with a flexible layer of tapioca starch. The cakes will be served with fatty coconut cream and white sesame.
6. Sweet Banh Cuon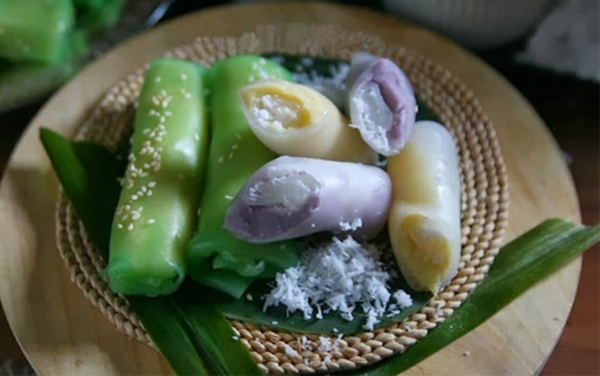 Sweet Banh Cuon is also called Banh Uot – which originally comes from Ben Tre. This small cake consists of a thin layer of eye-catching yellow coconut paper and the well-cooked green bean with sweet crispy coconut filling.
7. Skunk Vine Leaf Cake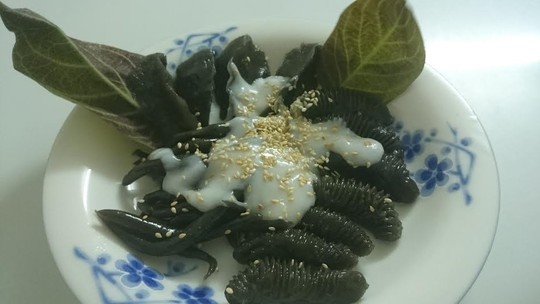 Skunk vine leaf cakes are made from three main ingredients including rice flour, coconut cream, and skunk vine leaves. The dark green dough is squeezed into flat pieces and then put in the steam pot. Eating this with full of cooked coconut cream will be perfect!
8. Banh Khot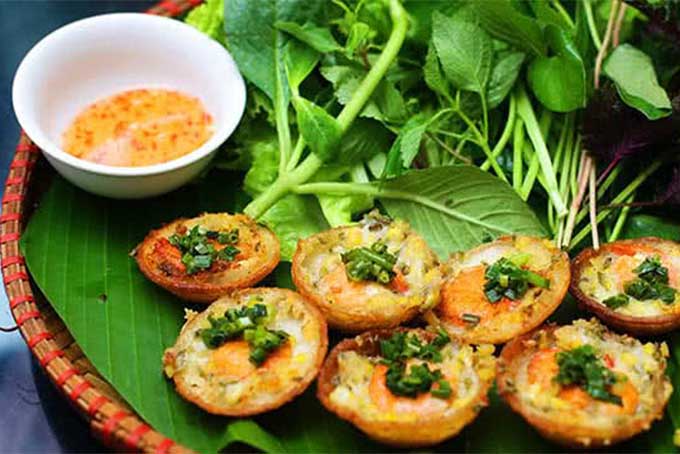 Banh Khot is eye-catching due to the crispy golden-brown shell and the chopped green onions added to the highlight the dish. The cake is best served with herbs, lettuce, and cucumber, then dipped in sweet and sour fish sauce with some julienne carrots.