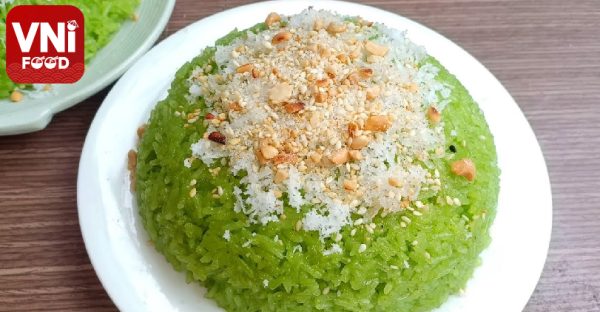 | | |
| --- | --- |
| | |
- Wash pandan leaves, choose large leaves, cut into chunks and put in a blender with 1 cup of water. Strain the pineapple leaves.

- Use this water to soak sticky rice. Add 1/3 tsp salt to soak for 4 hours.

- When sticky rice is soaked in pandan leaf juice, add coconut milk to cover the surface of the rice.

- Put the sticky rice in a ceramic bowl with a lid, then microwave at 800W two times, 3 minutes each time. Every time take out to stir evenly.

- Add sugar and 2 tablespoons of coconut milk, mix well, cook for another 3 minutes.

- Roast peanuts and grind with roasted salt.

- Add shredded coconut, roasted salt and peanut to the plate of sticky rice. Serve hot.